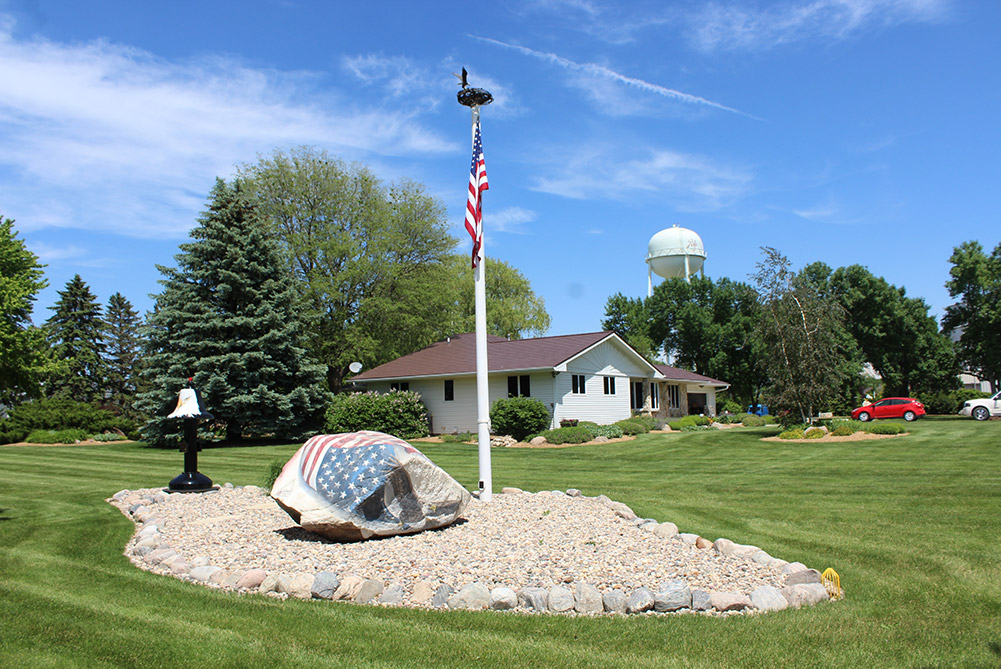 Why You Don't Want to Miss the Pocahontas County Freedom Rock
Have you heard of the Iowa Freedom Rocks? If you haven't, you've been missing out on a major movement that is about to go nationwide. Ray "Bubba" Sorensen II started painting his first Freedom Rock in 1999 in his hometown of Greenfield, Iowa. Inspired by the movie Saving Private Ryan, Sorensen wanted to do something to thank veterans for their service and sacrifices. His "thank you" came in the form of a 60+ ton boulder that he repaints every year with a new image for Memorial Day.
Sorensen did this for many years with support from his family and friends. Eventually, he decided he wanted to branch out of Adair County and spread his message of thanks and love for veterans to the other 98 counties in Iowa. Also, he figured it would be a great tourism opportunity for the smaller counties in the state. So, in late 2012 to early 2013, Sorensen started lining-up the next counties to receive Freedom Rocks for his upcoming Freedom Rock Tour.
Pocahontas County was not on his initial list of counties to start painting these rocks in. However, the Allen family, a Rolfe family that has a long history of donating back to their community, wanted to get Pocahontas on his radar. They met Bubba through his wife Maria, and, in March 2013, Dan Allen and his brother Roger went down to ask if he'd start his Freedom Tour in Pocahontas County. However, Sorensen mentioned that he already had a list of counties he was starting with in the spring when the weather warmed up, so Pocahontas would have to wait. Dan and Roger had a different plan. Dan offered to put up a tent with propane heat for Bubba to work in if he'd start right away. Sorensen must have liked the idea because he agreed, and Pocahontas County got the first Freedom Rock during this one-of-a-kind tour.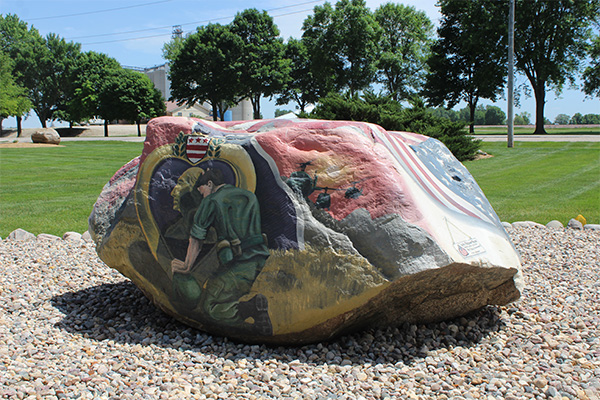 Now, where would the rock go? They considered putting it in front of the Pocahontas County Courthouse because of the Veteran's Memorial, but the city decided against it. No one was sure where it would be best to put the rock until Bob Bunda, a friend of the Allen family, came forward and asked the Allens to put the rock in their yard. Because of their yard's proximity to a main road, Bunda knew plenty of people would be able to see it from the road or stop by and see it up close. This was so important to Bunda that the Allens gladly agreed.
Sorensen likes to choose a subject for the rock that is unique to each county. For Pocahontas County, he decided to feature the story of Bob Bunda – the man who donated to the project and helped find a home for the rock. Bunda was a veteran of the Vietnam War. He earned 4 purple hearts during his service and was even MIA for over a year. In fact, how he was found is a very interesting story. One night, Bunda's mother was watching the news as they were covering the war. Then she saw her son there on the screen, laid out on a stretcher. That's when she knew he was still alive. Eventually, Bunda would return home and live out his life. He passed away four years ago.
Bunda's story is a stirring one and very personal to Rolfe and Pocahontas County as a whole, so it was only right that his story be featured. Two main images cover most of the rock. The side facing the street features a bald eagle with the American flag in its talons. The other side has a Vietnam soldier kneeling and leaning his head on a purple heart. In the background, there are Hueys, helicopters that were commonly used during the Vietnam War. The soldier kneeling is Bob Bunda. Sorensen completed the Pocahontas County Freedom Rock in April 2013.
The Iowa Freedom Rock Tour is about to conclude in the fall of 2020. Next, Ray Sorensen is planning a 50 State Freedom Rock Tour, so each state can sport their own Freedom Rock and have a reminder of how important our veterans are. They have sacrificed a lot, some more than we can ever repay; they have dedicated their lives to the safety of our country and its people, and that commitment deserves to be recognized. We, in Pocahontas County, are so glad to have such a moving tribute to these amazing men and women.
History & Heritage
Posted July 13, 2021