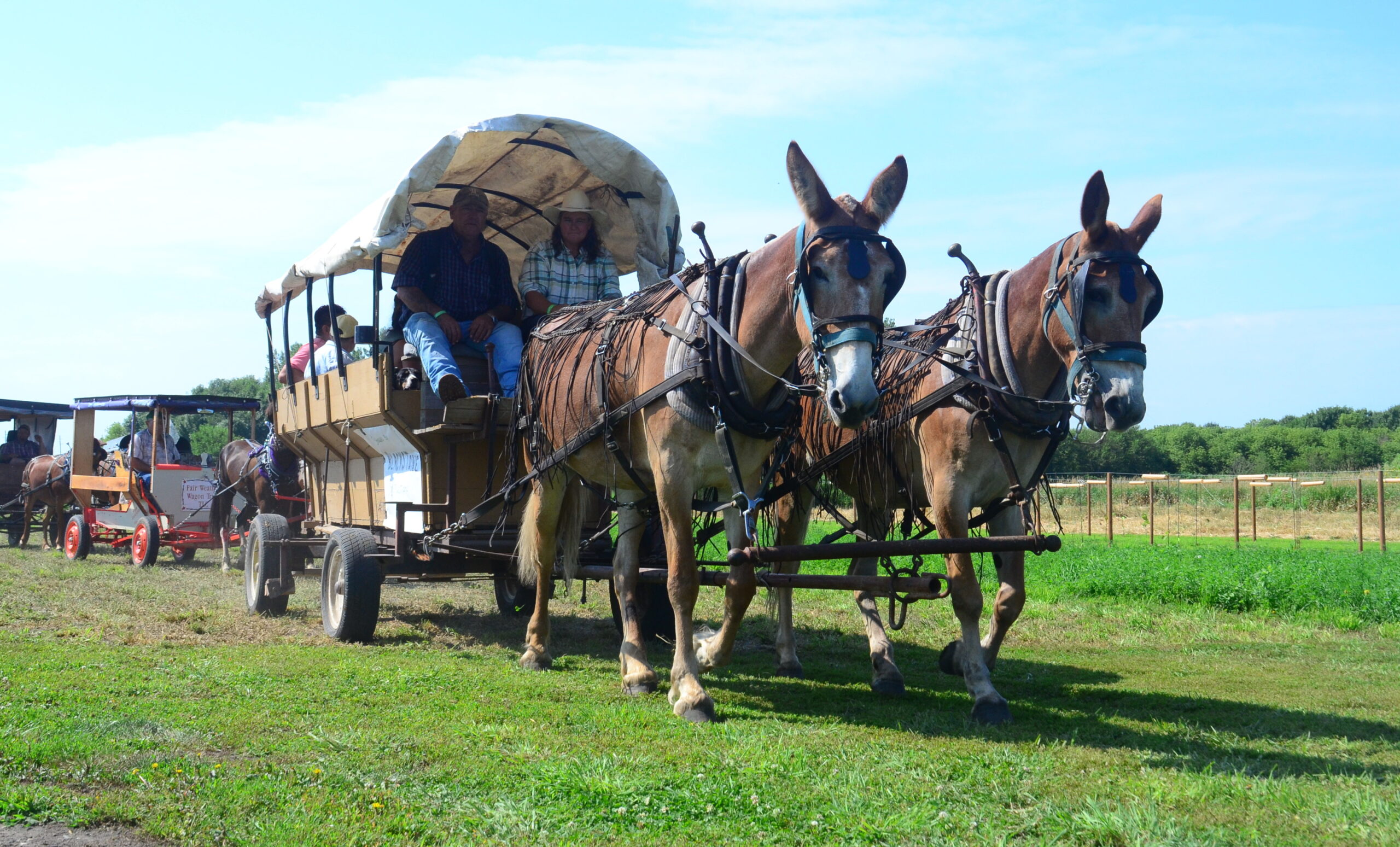 Wagon Train Showcases Old-fashioned Transportation
Originally reported in the Record-Democrat newspaper. Written by Erin Sommers, pokyrdnews@gmail.com
Randy Mobley didn't want to get a dog.
But when the Fonda resident bought an acreage outside of Fonda in 2001, everyone he met kept asking when he would adopt a couple of the furry, four-legged pets.
Instead, Mobley took a wagon that his own dad had used with mules and went for a pair of ponies. The Shetland-Welsh cross ponies start life with black fur and lighten as they age, Mobley said. Once he'd acquired them, he started taking them on trips from his acreage into Fonda, to acclimate them to crossing railroad tracks.
"I was leading them to town one day and a person from Fonda pulled up alongside me," Mobley said. The person rolled down the car window and asked what he was doing. Mobley said he looked at the man and told him that since everyone wanted him to get a dog, he had, although he didn't know the breed.
"It don't bark and it don't chase cars," Mobley said he told the man, who gave him a look, rolled up the window and drove away.
Mobley's team and wagon were one of about dozen to hitch up and head out on a Sunday morning in early August 2019 from Grandpa's Barn and Vineyard in Varina. Mobley was part of a wagon train, which took day trips from Varina out to Fonda and Little Clear Lake, before they planned to head to Albert City for the annual Threshermen's show.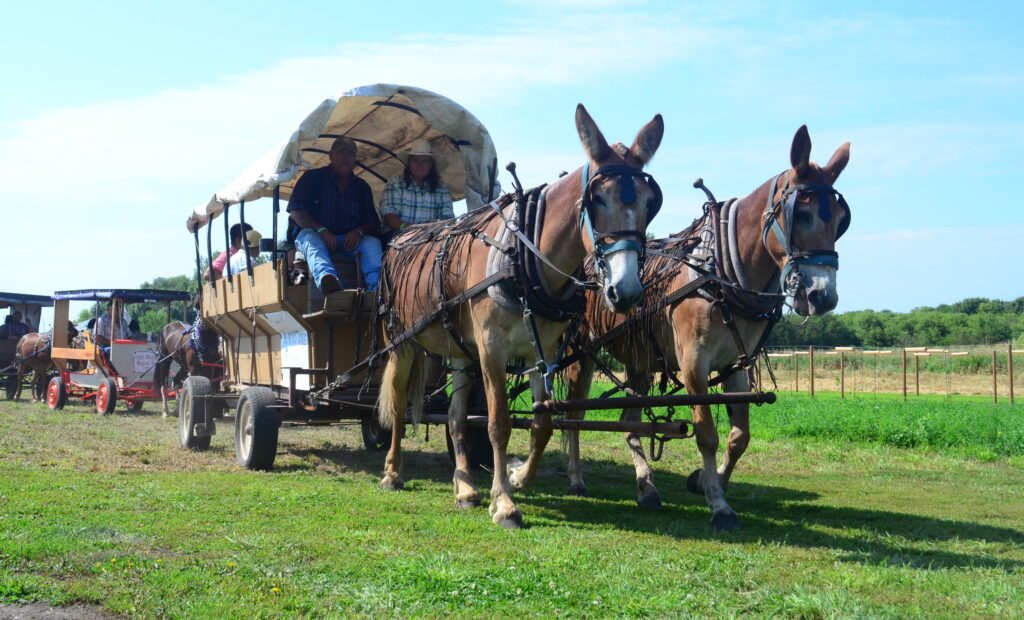 Mobley, like so many of the teamsters who join up with wagon trains, said he loves to participate because of the people he gets to meet.
"When you travel like that, if one has trouble, everybody helps," he said.
Kerri Wenck of Marathon agrees.
"The people — it's like a big family," Wenck said.
Of course, for her, some of her fellow wagon train members actually are family. Her sister, Kelli Kraft, organized the Varina wagon train, and is the one to get Wenck started in joining the outings.
"It's peaceful," Wenck said of hitting the road in a wagon train. "You get to see nature. It's just relaxing."
Lisa Wright of Lawton, Okla., went to her first wagon train in 1981.
"I had a friend invite me to go to done down in Texas," Wright said. "I thought it was awesome."
Wright said she already rode all day, and the wagon train was an opportunity to ride and socialize with like-minded folks. She doesn't do many wagon trains in Oklahoma in the summers, though. It's too hot, she said. September, October and even into early November offer more reasonable temperatures, she said.
Jerry Mclearen said he still farms with his mules and an old-fashioned wagon.
"I've put in a garden, I've put in wheat," said Mclearen, who also came to Varina from Oklahoma. "I've cowboyed and everything. I grower up with teams."
He used to have draft horses, but eventually went with mules. Draft horses, he said, can't keep up with mules. They're just too slow, he said.
"We have a lot of fun," Mclearen said. "This bunch here, we all take care of each other."
History & Heritage
Posted June 5, 2021