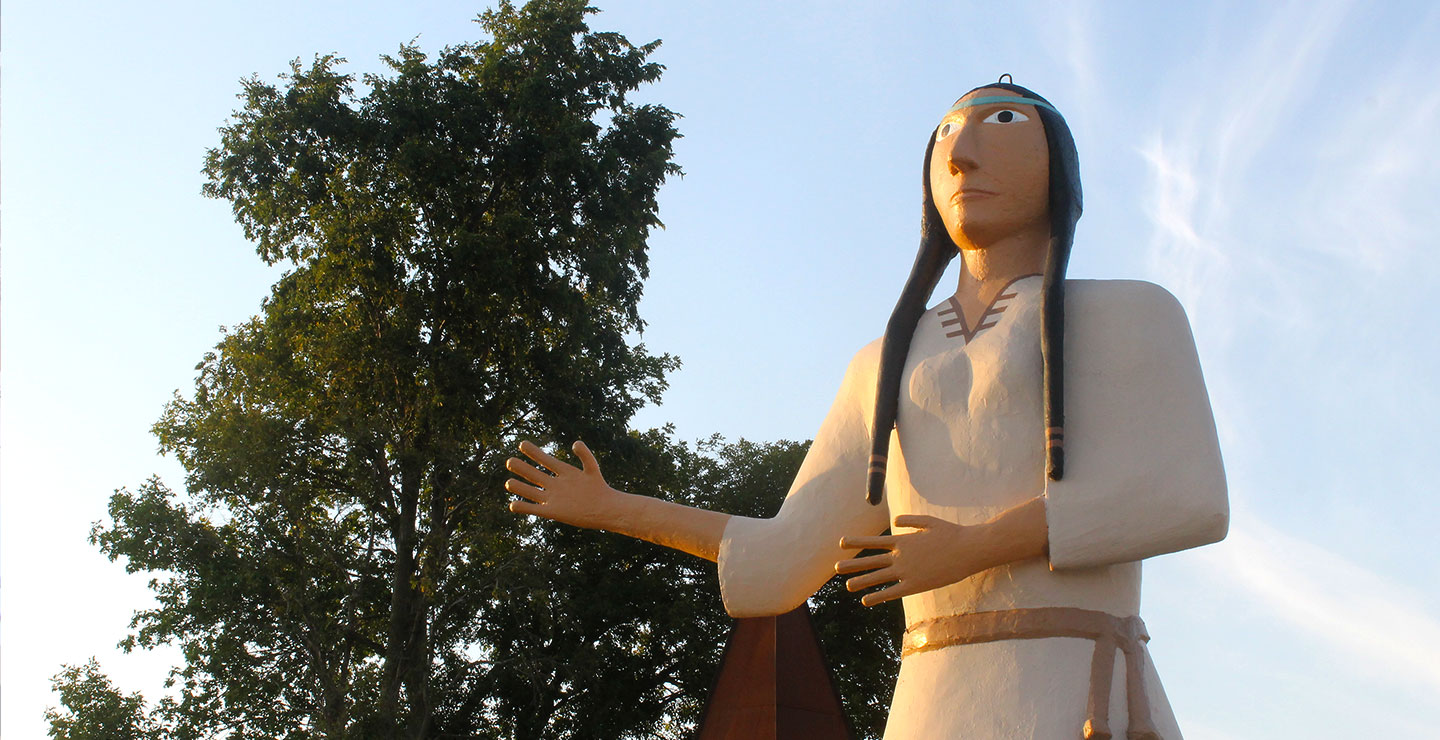 Trip Ideas for the Traveling Sightseer
If you like traveling far and wide to explore hidden gems and unique treasures, we have a nice list of attractions for you to discover in Pocahontas County! Read on to discover a fun filled trip idea for the traveling sightseer!
When traveling in Pocahontas County, you have to stop by Princess Park to get a picture with the Princess Statue. The statue stands 25 feet high and also features a guest book you can sign inside the teepee behind her. You'll also want to pop in the cabin and explore some history of the town of Pocahontas. If you're ambitious and feeling up for a walk, the Pocahontas Community Trail Loop also starts at Princess Park. Walk or bike the loop through Pocahontas to see some of the town's landmarks and get a feel for small town peace and serenity.
People have traveled far and wide to visit The Kaleidoscope Family in Pocahontas. Previously known as The Kaleidoscope Factory, it was run by Leonard Olson, who would make the whimsical souvenirs right in front of your very eyes. After Leonard's passing in late 2019, his family decided to keep the business alive by divvying up the machinery and making the memorabilia found in the shop at their own homes. Each member then brings their creations to sell at the store in Pocahontas, and each creation has its own unique characteristics and stories. The Kaleidoscope Family is an absolute must see for anyone traveling through the area.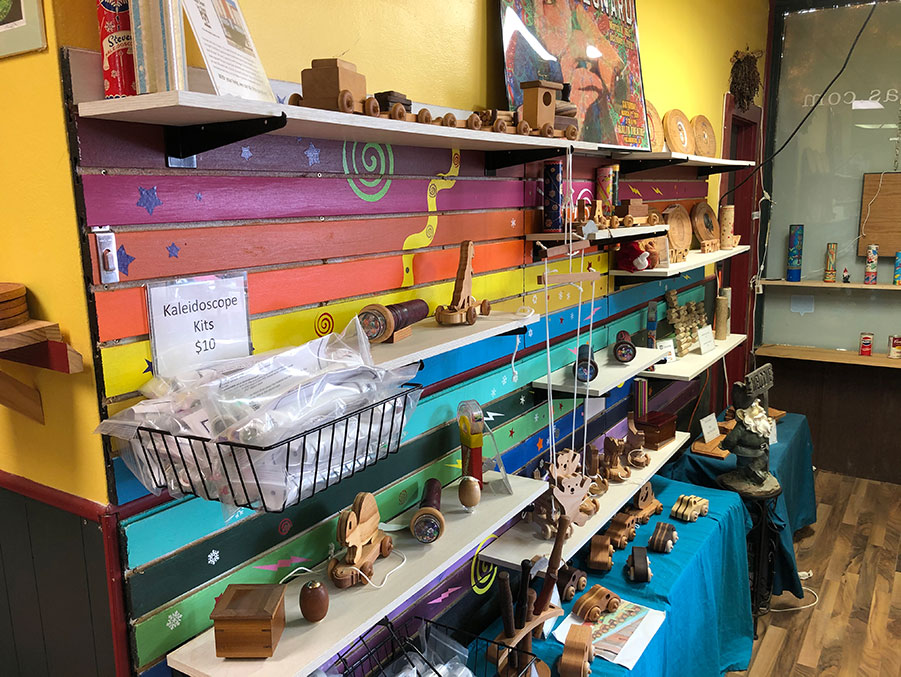 Before departing Pocahontas, you may also want to consider swinging in Quilting on Main. This unique quilt shop has established an acclaimed name for itself, and it's a charming store with over 2,000 bolts of fabrics to browse through. It is just down the street from the Kaleidoscope Family, so it's an easy store to hop over to!
Take a step back in time when you visit the Fonda Museum. Featuring gadgets and gizmos from the 1920's and 1930's, there is plenty to re-discover about history when you book your tour at this fun and fascinating museum. Once you're done here, it's worthwhile to swing down through Varina to check out Grandpa's Barn & Vineyard. This rustic venue often sells fresh vegetables and homemade decor, and frequently hosts fun events like bingo and karaoke.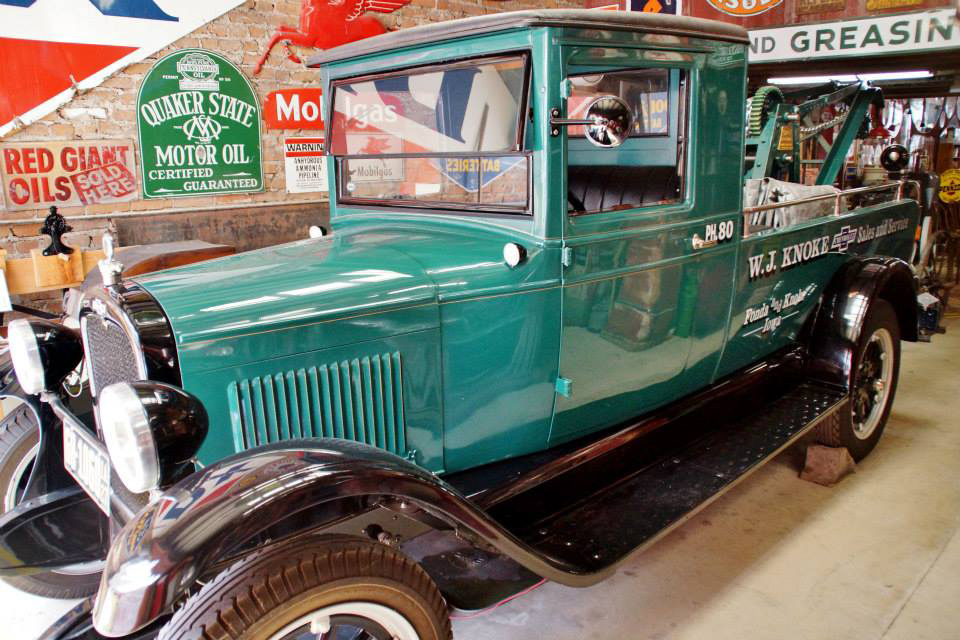 Make some time to visit the Straight Story Building in Laurens. Laurens is the community where the 1998 Disney movie was filmed, and you can sit on the actual mower Alvin Straight used to visit his ill brother in Wisconsin! It's also right down the road from the Laurens City Park, where you can play with the outdoor musical instruments. While you're there, you may consider stopping in at the Pocahontas County Historical Society Museum to learn more about the history of Pocahontas County.
After departing Laurens, head on over to Rolfe and walk the Three Rivers Trail! This lengthy 40 mile trail starts in Rolfe and travels all the way through Humboldt County into Wright County. It's a great trail for walking, running, or biking – just make sure to turn around before you're too tired! On your way to or from Rolfe, you may want to take a small detour to spot the Last Buffalo Shot in Iowa Marker.
Get a splash of nature on your sightseeing trip and visit Sunset Park in Gilmore City. The Gilmore City Hometown Pride Committee has been hard at work shaping this beautiful park over the past few years, and there is always something enjoyable to discover when taking a stroll through the park or relaxing at one of the beautiful seating areas. You could always head on down to Cooper's Cove and walk through their trails and luscious green space and trails. Looking for more of a hiking trail? Cross the road at Cooper's Cove and explore Whitetail Ridge!
There's plenty for the siteseer to do while in Pocahontas County! Thinking of making this a multiple day trip? Check out nearby places you can Stay! Be sure to also visit some of the great restaurants we have to offer throughout our communities!
Trip Ideas
Posted August 4, 2020