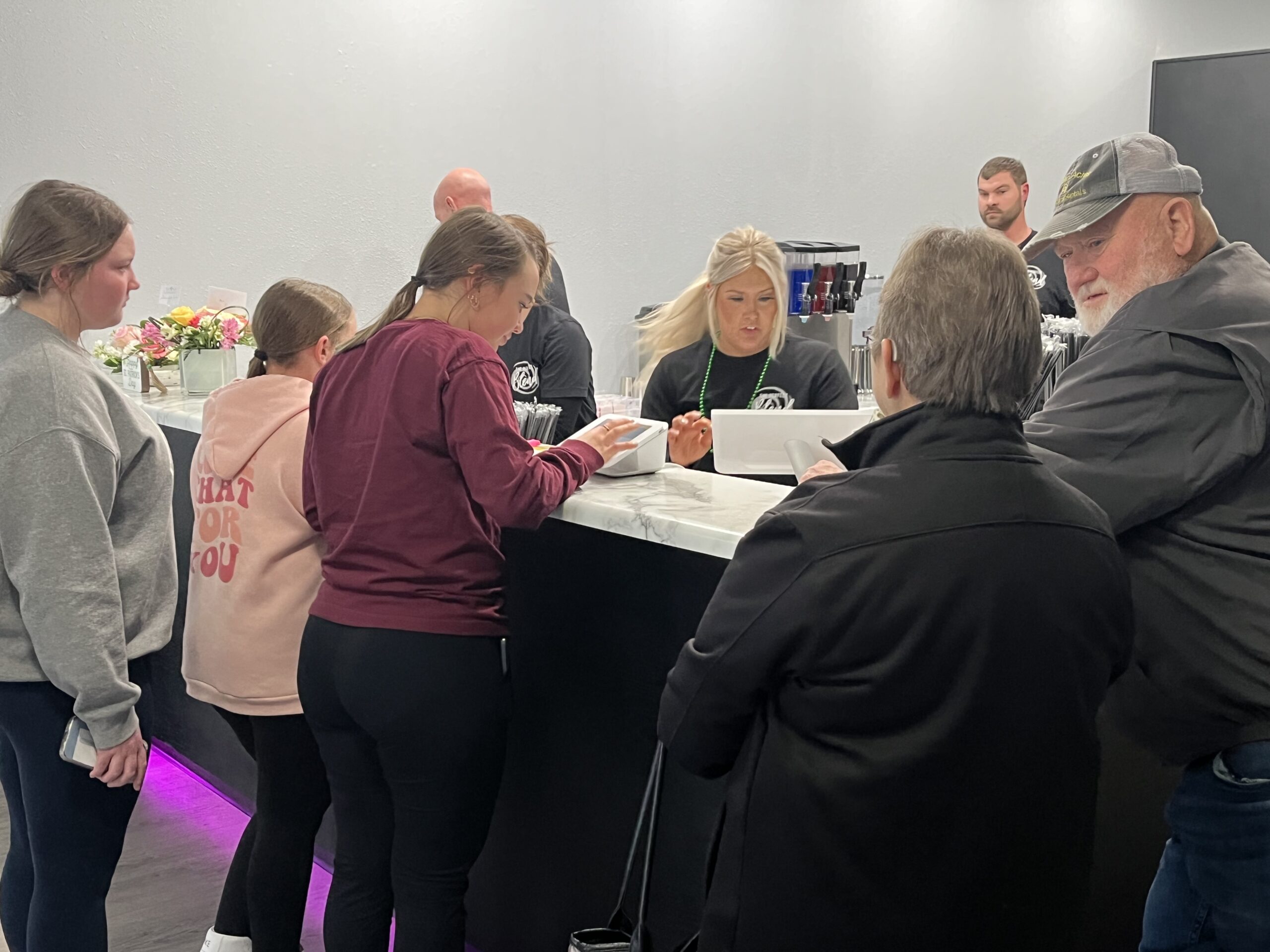 The Perfect Place for the Perfect Blend
Originally reported in The Pocahontas-Record Democrat newspaper.
The first few months of 2023 have been a whirlwind for Bry and John Gustafson of Laurens.
The couple decided right around the new year they wanted to open a nutrition club business, offering teas and protein shakes that offer an alternative to energy drinks. Bry first tried this kind of energy tea at West Blendz, a nutrition club shop in West Bend. She had to convince John to give the drinks a try, because he isn't a big tea drinker.
But he was quickly hooked, too.
"Every opportunity we got, we would stop in at West Blendz and get a drink," she said. "One day, I thought I should start a club like West Blendz in Laurens."
They started looking for a building. They wanted to be downtown, but there wasn't a lot available. They spoke with Denny Krips, who had just finished remodeling the building at 121 N. Third Street. He'd been using the building as an event venue and agreed to sell it to the Gustafsons.
It was a great fit — the floor, ceiling and walls had already been refinished. The Gustafsons had to build a new room in the back and add the counter and cupboards. They took possession of the building Feb. 21 and were ready to open just a month later, March 17, when they hosted a ribbon cutting and grand opening with the Laurens Chamber and Boosters.
"We couldn't have picked a more perfect building," Bry said.
The building has had a long history in Laurens — in the 1880s, it was a furniture and hardware store. It may have operated as a post office late in the 19th Century and, in the 1970s, it was the Napa store in town. The Gustafsons spent quite a bit of time talking with the owners of West Blendz.
"They just coached us the whole time," Bry said. "They're very generous with the knowledge. They've really been there for us, taught us what we need to know. They were more than happy to help."
For people who haven't tried energy teas, think iced, sometimes sweet, sometimes tart, often featuring fruit flavors. The drinks are customizable, with the ability to have more or less caffeine based on a customer's preference, Bry said. She and John both love the watermelon refresher, which has a watermelon base with cucumber and lime on top. She also likes the tiger's blood and pink crush flavors.
"It doesn't taste like tea," she said, adding that if customers are thinking of a drink like sun tea or iced tea, that isn't at all what she's offering. Instead, the flavors feature sweet and tart fruits and other notes, with caffeine from blended tea powders and energy powders. "It was something that we both enjoyed and something we thought would be a fresh, new thing for the town. Instead of going out of town for it, why don't we bring it here?"
The shakes have up to 24 grams of protein, she said. Once things are up and running, Bry will be doing deliveries around town, and The Perfect Blend will also be able to take orders by phone and have those ready when customers walk in the door. Eventually, Bry said she would like to have regularly scheduled visits to Pocahontas.
The Perfect Blend will be open Mondays through Fridays from 7 a.m. to 6 p.m. to start, and from 9 a.m. to 2 p.m. Saturdays. They will be closed Sundays. The shop also offers Bry a chance to work with the public on a regular basis.
"I love people," she said. "I love being social, which is part of the reason this so appealed to me. You get to see so many faces and engage with so many people through the door."
Eat
Posted March 29, 2023