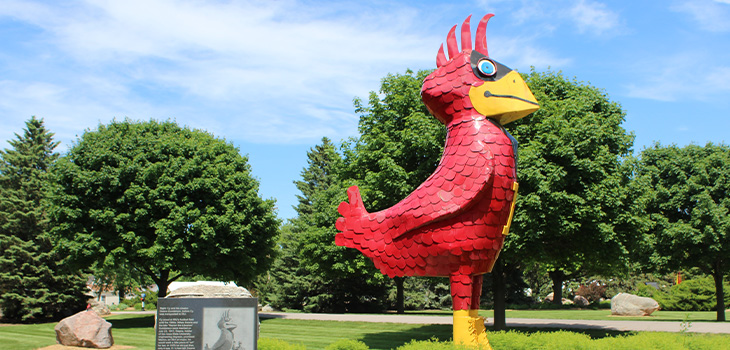 5 Sites to See on the Allen Property
Dan and Roger Allen are brothers who were born and raised in Rolfe, Iowa. Now, working together as farmers in the same small town they grew up in, they are always finding ways to give back to the community they love. Whether it's donating time and equipment to restoring the local pond and its amenities or planting beautiful flowers around the town, the Allen family never says no to helping Rolfe prosper. "It's a lot of work," Dan says, "but when you see people using it, it's worth it."
Dan and his wife Mary are so generous they've even opened up their own property to the public. Filled with amazing sculptures and items made by Dan, a metal expert, and Roger, a master with wood, the area is something anyone coming to Rolfe has to see. The Allens also get pieces from friends and acquaintances around the area. Whenever they get something new, Dan uses his metal skills and all of his creativity to make something amazing. One example you'll see is an auger, donated by a company west of Pocahontas, that Dan put an ISU sign on top of.
Here are the top five most unique, artistic pieces you'll find at Dan and Mary Allen's place:
The Bud Barn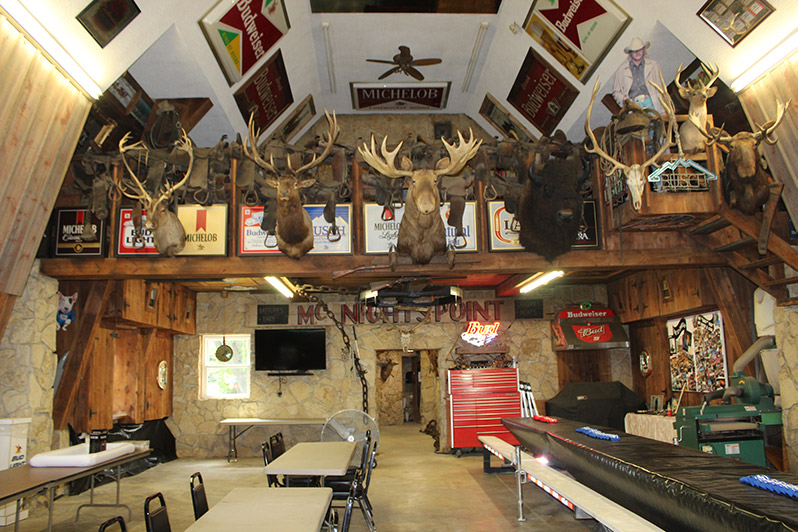 The Bud Barn is the largest place you can visit on the property with tons of interesting tidbits inside. Several buildings had to be torn down to build it. Originally, when Dan poured the concrete slab that now makes up the floor, it was going to be a welding shop. However, farming was experiencing a downturn at the time which stopped that from happening. When his brother, Roger, moved back in 1981 to help him with the farm, they moved the barn to its current location. In the process, they actually had to cut 9 feet off of the barn.
Inside, you can see a lot of Dan and Roger's work from over the years. Dan has a whole back hallway filled with steel bear traps that he's built. (Some are pretty enormous!) Don't worry though, they aren't functional. The walls and ceiling are full of pictures and murals featuring Budweiser – the barn's theme and namesake – covering most of the free space you can see.
The second floor is full of more Budweiser memorabilia as well as other oddities, one of which is an old shoe shine chair that Dan and Roger made for a friend to drive all over the country to exhibit. Eventually, their friend returned it to them, and now they display it to show off their craftsmanship. One of the coolest things you'll find is the giant stone map of the United States. Get up really close and you'll see tiny rubies and diamonds in the stone. The diamonds mark the state capitals while the rubies mark all the Budweiser breweries.
Before you head out to tour the rest of the property, make sure to take notice of the Budweiser Clydesdales that are above the door and placed at a few other locations in the barn. Dan started collecting Clydesdales as a kid and is still in love with them today. One of the displays in the barn is a 16-horse hitch, and it's one of a kind. The horses are each 9 ½ pounds and Dan hand-painted every one of them. Roger and Dan built the wagon to scale and had the harness made by a man that used to make harnesses for Budweiser. All in all it's a very unique place.
---
The Giant Rocking Horse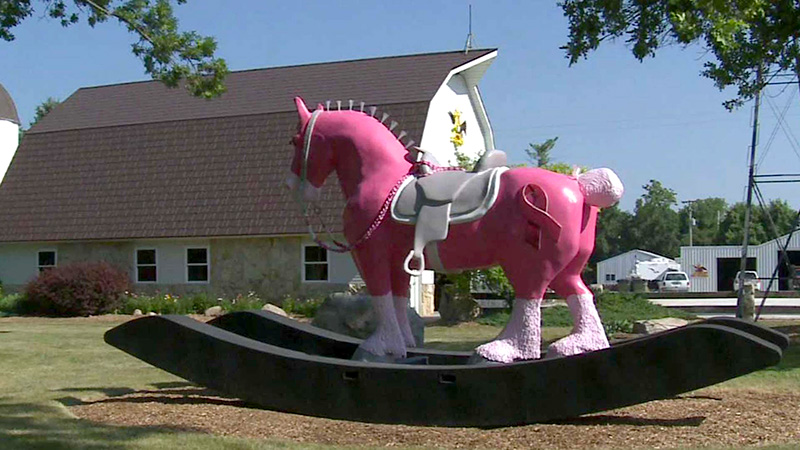 When their first grandchild was about a year old, Mary asked Dan to make her a rocking horse like Roger had done for his oldest daughter. Mary said she wanted something simple for her grandchild and all the ones that would follow. Dan told her not to worry; he'd handle it. And handle it he did. Mary explained that due to her work as a schoolteacher, she hadn't had time to check in on Dan and the rocking horse. But after 3 months, she decided to see how it was all progressing. "And there it was," she said with a smile. Dan built a rocking horse all right – a giant rocking horse painted to look just like a Clydesdale. When their granddaughter was two, she got to climb the ladder with her dad and sit on her own giant rocking horse for the first time. That was nearly twenty years ago. The rocking horse is still there, but it looks a little different now. Instead of looking like a Clydesdale, it's painted bright pink with darker pink ribbons on it. That's because about a decade ago, Mary was diagnosed with breast cancer two years in a row. She overcame, and they keep the horse pink to honor all who have fought their courageous battle with breast cancer.
---
The Freedom Rock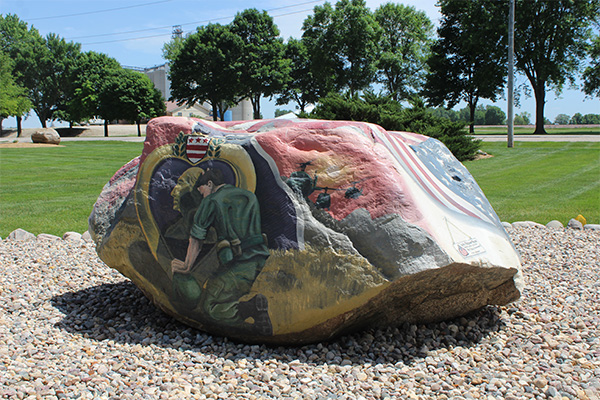 The Allens also have the Pocahontas County Freedom Rock on their property. "Bubba" Ray Sorenson painted the first Freedom Rock in his hometown of Greenfield, and the one in Rolfe is the first of the other 98 counties Sorensen painted in Iowa. Two main images cover most of the rock. The side facing the street features a bald eagle with the American flag in its talons. The other side pictures a Vietnam soldier kneeling and leaning his head on a purple heart. In the background, there are Hueys, helicopters that were commonly used during the Vietnam War. The man represents Bob Bunda, a Vietnam vet that was a friend to the Allen family. During his time in Vietnam, he earned four purple hearts.
Next to the Freedom Rock, is a large bell that Dan built a stand for and installed for anybody to ring in honor of all veterans. "Bubba" Ray Sorensen painted the image on the bell which is an eagle shedding tears. Those tears represent all the soldiers we, as a country, have lost.
---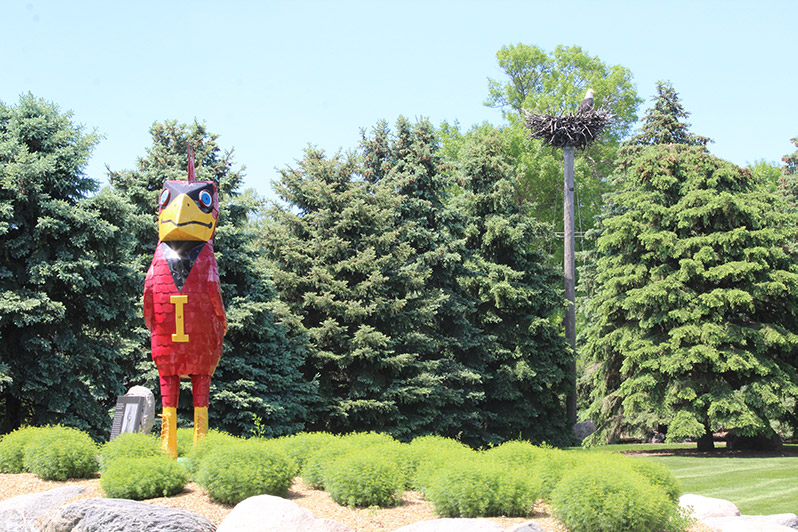 Eagle's Nest Statue
High above trees in the far northwest corner of the property is a giant, incredible detailed eagle's nest with a bald eagle sitting inside. Dan built the nest in the Bud Barn. The eagle is made entirely of rerod, and all of the rivets were strategically placed to make it look like the eagle is sporting real feathers. Dan went into the county and found branches from downed trees, then wove them together to make it look like a real nest. The nest is so big that when it was still in the barn all six of their grandchildren could fit in it with the eagle! Now, you can find it on a post in their yard behind the Cy statue.
Cy Statue
This 11 ½ foot statue was built by Deanne Gunderson as a gift to his wife Marion. Both graduates of Iowa State University, Deanne in engineering and Marion in art, he thought he'd make something to represent that connection. In 1975, he welded together this statue of Cy, the ISU Cyclone's mascot. It took over 200 hours of work to complete and, in the end, Cy was given a home at Jack Trice Stadium in Ames where the Cyclones play their home games. For over 17 years, Cy stood by the main gate at Jack Trice Stadium. However, around the 1990s ISU changed its logo and decided that this Cy statue would no longer be at the stadium. The school had it taken to the dump. Deanne called Dan when this happened and asked Dan if he'd restore it. And it needed restoring; Cy had lost one leg, had accumulated multiple dents, and needed a fresh coat of paint. Deanne brought the statue to the Allen property, and Dan returned it to its former glory. When the restoration work was completed, Deanne confessed he had nowhere to put it and asked Dan if he'd keep it on his property. Dan readily agreed. The Allens have had Cy for about a decade, and it's a pretty fitting home since Dan and Mary's two sons as well as their daughters-in-law all went to Iowa State. Dan says he does have plans to add Herky the Hawk – a tiny Herky, right in front of Cy.
---
While giving an amazing tour of the property, Mary Allen expressed how blessed she and her family feel to be a part of the Rolfe community and the American community at large. And that's exactly why they put many things up: the Freedom Rock, all the different eagles, and other examples of Americana. They love their country, and they want to share that love with everyone who visits them.
And people are certainly more than welcome to come and visit. Mary says visitors can park on the road or follow the road and park next to the Bud Barn. Feel free to walk around and take pictures, and if you see Mary or Dan be sure to say hello. They like it when people say hi! Mary's final message? "Feel free to pull a weed while you're here!"
Arts & Culture
Posted August 7, 2020